Personal Dosimetry Service
MeasuRing™ TLD Dosimeter
Provides accurate readings of the radiation exposure to your extremities and responds to low or high energy beta, x-ray or gamma radiation. MeasuRing™ is perfect for those who handle radioisotopes or perform interventional radiographic procedures.
MeasuRings consist of one natural lithium fluoride element and offer immersible, bar coded single-piece construction. You can work with MeasuRing anywhere, even in wet environments.
Built-in barcoding on the MeasuRing makes issue and control both easy and accurate. A second internal bar-code on the TLD chipstrate provides for foolproof chain-of-custody, history tracking and calibration for each individual chip.
Features of the MeasuRing TLD include:
Can be worn under surgical gloves
Individually calibrated
Can be cold sterilized
Available in four sizes and colours
Wearing periods from one week to one year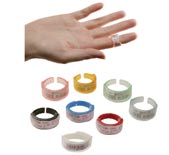 Radiation type (energy) Beta (MAX) (0.766 MeV - 5 MeV)
Photon (20 keV - 6 MeV)
Recommended wearing period One week to one year
Reporting quantity Personal dose equivalent as defined in ICRU 51 at a depth of 0.07 mm (skin)
Reporting units Millisieverts (mSv)
Minimum reportable dose 0.20 mSv
Useful dose range 0.20 mSv - 10 Sv
Download MeasuRing™ TLD Dosimeter Datasheet
Download MeasuRing™ Size Guide
Download Proper Wear and Care of Dosimeters Datasheet